Hello there!
If you are new to the idea of Wireless Home Control - Lutron has a great short little introduction to help you visualize light control here:
http://www.lutron.com/en-US/Experience-Light-Control/Pages/VLC/VisualizeLightControl.aspx
Here is my planning worksheet that helps you more easily navigate the RadioRA®2 process room by room: www.t-crealty.com/Planning-Worksheet.pdf or I can email you my excel form if you know your total number of fixtures, type of bulbs (LED, CFL, Halogens, Incandescent, etc) and proposed wattage on each circuit. You can go here for more information: http://t-crealty.com/Lutron/more-details.htm
If you are in the process of building a home or addition - I have posted below a photo of a fantastic option for you if your walls and electric are not in yet or if you have a basement or attic to work from - this will work in any retrofit installation as well. Plus Lutron will be releasing a RA2 Softswitch Module Fall of 2013 that will make this process even easier!
I have quite a few clients that now wiring all of their lighting circuits into a closet and then putting the keypads in the rooms instead of 4 or 5 gang banks of light switches.
Usually if I can get a hold of the process soon enough - I can cure your home of Wall Acne Forever (see photos below) and I strongly recommend you consider this option. Lutron Systems work perfectly & every time so you can install large button back lit keypads in your rooms engraved with what ever options you decide the buttons are to perform for you (you have up to 7 button keypads to take advantage of).
Absolutely a Fabulous option and looks gorgeous in both new homes & retrofits. This also works well if you have a basement or good crawl space. Install your dimmers down there and turn your wall boxes into keypad boxes. I guarantee you'll be thrilled with the results & convenience.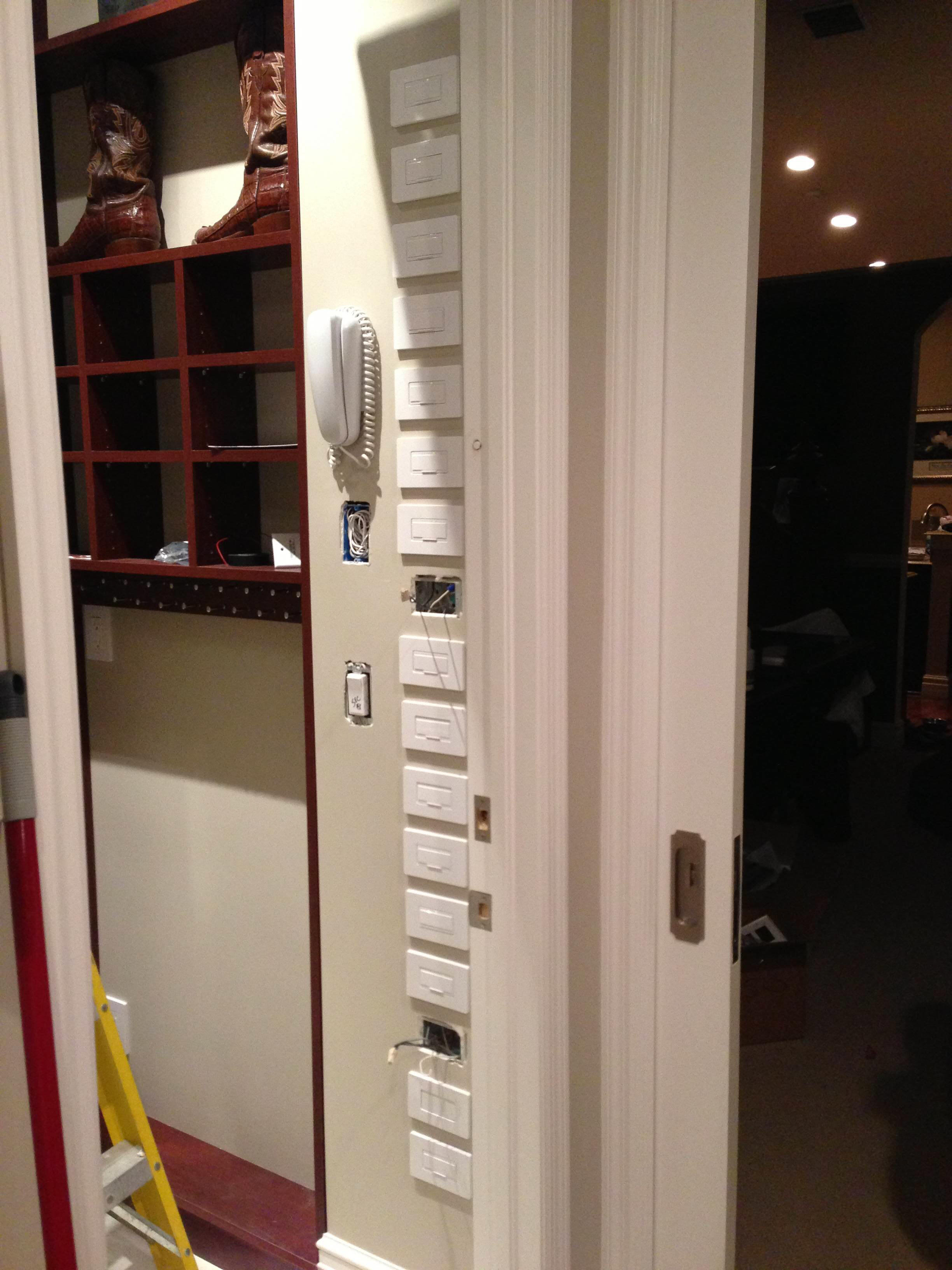 Think of the Hybrid Keypad (RRD-H6BRL) as the brain as it is both a keypad and a dimmer. The in wall keypads are just a keypad (RRD-W6BRL) - they do not control a load - they only send RF signals. If you are considering a ceiling fan - make sure that they wire the paddle separate from the light (if the fan has one) otherwise you can not use the 4 speed RA2 control switch which is really nice. I also have some clients using this 4 speed fan control for bathroom vent fans - I can get you the specifics if you are interested.

You can hire an electrician to change our your switches or go DIY....The choice is yours. I did my entire home including shades myself. I can email you wiring diagrams as well. Plus Lutron has a video on how easy it is to change out a light switch - http://www.lutron.com/en-US/Education-Training/Pages/Tools/InstallDimmer.aspx
I also offer Alarm & HVAC integration Plus I am shade certified so if you decide you want to add the Sivoia QS Wireless Battery Operated Shades - do let me know. I can get them below retail. They run about $489 for the smaller sizes - larger sizes, Rio Fabrics & wired power options cost a bit more. But they are so fabulous. This link will explain more about Lutron's wireless motorized cellular shades: http://www.t-crealty.com/sivoia-qs.htm and get access to the spec form that I will need back to organize a quote for you.
I also have access to Lutron's full motorized shading line including roller shades, drapery tracks, roman shades, Venetian blinds, etc. PLUS the new QS Triathlon Battery Powered Roller Shades that are crazy easy to install - 1 mounting bracket and they cost 2.5x less than the QS Sivoia Wired Roller Shades - they run about $589 for a 28x36 window.
If you would like to know more - please go here: www.t-crealty.com/Lutron/more-details.htm
I can also put a package together for you as well in about an hour via a PayPal request. And I can do so usually so within an hour or so. You mail requests in or even call or text 24 Hours to 541-331-3421. If you call - be sure to email or text me your PayPal email address to send the request to.
Plus I can have a system shipped out usually within 24 hours weekdays as long as I have everything in stock or if I program - plan on about 48-72 hours. It just depends on what I have in stock, how many systems I have to program ahead of yours, if you submitted my planning worksheet and when your payment clears as my shipping deadline is 2 pm PST Monday thru Friday. Please do note that my inventory and time to program are all time sensitive. I only have a few openings a month to design & program systems.
Just let me know! I am here to help and I can be as involved as you would like me to be.
Again Thank you for considering my help with your ★Lutron RadioRA®2 project - I know you have a choice of where & who to buy from so I want you to know that I do appreciate your business more than you will ever know!
If you have any questions or concerns, please feel free to contact me by email at teresa@t-crealty.com or you can call or text 24 Hours to 541-331-3421 (even orders and I can have a PayPal request to you usually within 1 hour or less). Thank you!
Sincerely,
Teresa N. Snyder
Teresa N. Snyder
RadioRA®2 Designer & Programmer
http://www.connected-smarthomes.com
Lighting, Staging & Shades Designer
Home Automation Consultant
Town & Country Realty
Teresa@t-crealty.com
Call or text 24 Hours to 541-331-3421
Click here to learn how lighting can change your life: www.t-crealty.com/Love-your-home-again-with-RA2.pdf & see how RadioRA®2 can not only simplify your life but put your Home Life on autopilot as well!